Dundarave Village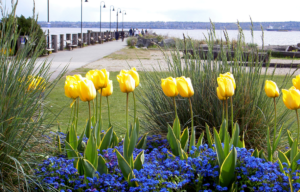 This place looks absolutely delightful. It's a little seaside escape in West Vancouver, where you can find boutique shopping, coffee houses, antiquing opportunities, and more! They've even got a Farmer's Market every Saturday from spring to autumn. The Dundarave Business Association works with the Municipality of West Vancouver and Council to ensure that the village retains its old-fashioned charm, and safe, local vibe. I imagine it would be a great place for certain business development services. It seems like a great place to go if you're not really into the hustle and bustle of city life, and would rather relax with an ice cream cone on the pier as you watch the ships come in and out. Time for a fun fact! Dundarave Pier is the site of the original ferry landing, so ten points to the pier for being both beautiful and historically relevant.
The Lions Gate Bridge is the suspension bridge that connects Vancouver to North Shore municipalities. Opened in 1938, it's a rather beautiful bridge, named "Lions Gate" after a pair of mountain peaks that are north of Vancouver which are called The Lions. Before this bridge was built, however, in order to get to those North Shore municipalities, where many people had colleges, they would have to use a row boat. It is thanks to this rowing that the village of Dundarave got its name. Dundarave comes from a Gaelic word meaning two-oared boat. Thus, this became the name of the village when Professor Russell Macnaghten named the village after Dundarave Castle in Scotland, which is the home of the clan Macnaghten. Funny how things like that work out.
In the summertime, Dundarave Park is the perfect spot to spend hours sunbathing with a book on its over 50-metres of beautiful, warm, sandy beach …. mmm, I can feel that gorgeous West Coast sunshine as I sit here typing (in , Ottawa, may I add, where we just got twenty centimetres of snow in late March …. but it's fine). Not only is there beach, but there's a playground and a wading pool in case you've got little ones who need a place to chill, too. And for those of us who love to take a good stroll, Dundarave is where the Centennial Seawalk starts, and that lovely trail runs all the way to Ambleside (which, for those of us unfamiliar with the area, is about five and a half kilometres).
And if you do happen to be visiting in the winter time (because Vancouver exists in the winter, too), you should absolutely check out the Dundarave Festival of Lights! This is a beautiful winter festival that offers free concerts on the beach, and also features the Forest of Miracles. Every year, families and businesses sponsor and decorate beautiful Christmas trees, in a forest planted by West Vancouver's fire department, to raise money for the area's homeless. Since 2008, the trees have raised over 250,000 dollars for the Lookout Society's North Shore Shelter. If that won't put you in the holiday spirit, I don't know what will.