VanDusen Botanical Garden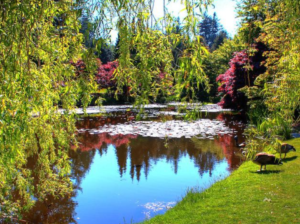 Guys, there's a gorgeous botanical garden in Vancouver. Obvs it has made it on the list. Because yes, hiking in the forest, getting a little down and dirty with nature, working those muscles, becoming one with the mountain, I'm all for it. But there is definitely something to be said for spending an afternoon strolling peacefully on beautifully-manicured lawns, enjoying carefully planted flowerbeds and painstakingly tended shrubbery (just as Hamilton plumbers might in the gardens in Hamilton after a hard day's work). It makes me feel like I'm walking though a poem. So, all that said, allow me to recommend a visit to the VanDusen Botanical Garden.
The garden first opened as a public garden in 1975, built on part of what used to be the Shaughnessy Golf Course. The decision to start to create the garden was made in 1970, and it was also decided at this time that this would not be a research garden, allowing finds that may have been allocated to a herbarium or research collections could go into the general beautification of the garden. That said, in 2011, a specialized "living building" reference library was opened (which is something I have decided I must see). As well as many other learning opportunities (you really must check out their website), the garden also contains beautiful works of art. There are fountains, carved totem poles, and eleven particularly special stone sculptures. They are special in that they were created by twelve sculptors from all over the world in 1975 at the Vancouver International Sculptor Symposium, to commemorate the opening of the garden. They also have featured collections each year that feature various pieces of art among the plant life.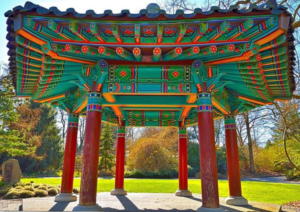 Another feature of the garden that is particularly popular with children (and, I'm sure, youthful adults), is the great Elizabethan Maze. 3000 pyramidal cedars compose this giant maze, planted in 1981, and it continues to fascinate the adventurous just as labyrinths have done for thousands of years. For those who find the idea of getting long among a bunch of trees less-than-desirable, there is an observation terrace. The garden also features a Stone Garden (made in the oriental style out of lightweight volcanic rock), a Scottish Shelter (located in the Heather Garden, made out of basalt rock), and a Korean Pavilion (a gift from the Korean people in 1986, made by three specialist artisans from Korea; featured just above).
The garden also boasts a host of various types of wildlife. Bird species that happily call the garden home include robins, sparrows, and swallows, and there is a Guided Bird Walk offered each month that is included in the price of admission. Some particularly important garden-inhabitants are bees. The garden has apiarists that tend to the hives from the spring to late fall, when they will then winterize them to keep them safe, and start the whole process over again in the spring. The garden has a number of hives, each housing between 35, 000 and 50, 000 bees. What a happy thing for the environment! Finally, of course, you can always find your typical urban wildlife such as squirrels, turtles, insects, fish , and coyotes. The presence of all these animals is an excellent indicator of the overall health of the gardens, and they all have a role in maintaining the garden's healthy, natural balance.